For the thirteenth consecutive year, the International Short Film Festival Oberhausen is taking a selection of films from its festival programs on a global tour. The focus of the project is on compilations and films that were shown in the 2022 festival program. The selection includes five films from the German Competition, which focus on themes related to work, migration and communication. In addition, the showcase will include six works from the International Competition as well as the "Finding Paths" program for children aged 3 and up.
Friday 20.10.2023
18:00 Uhr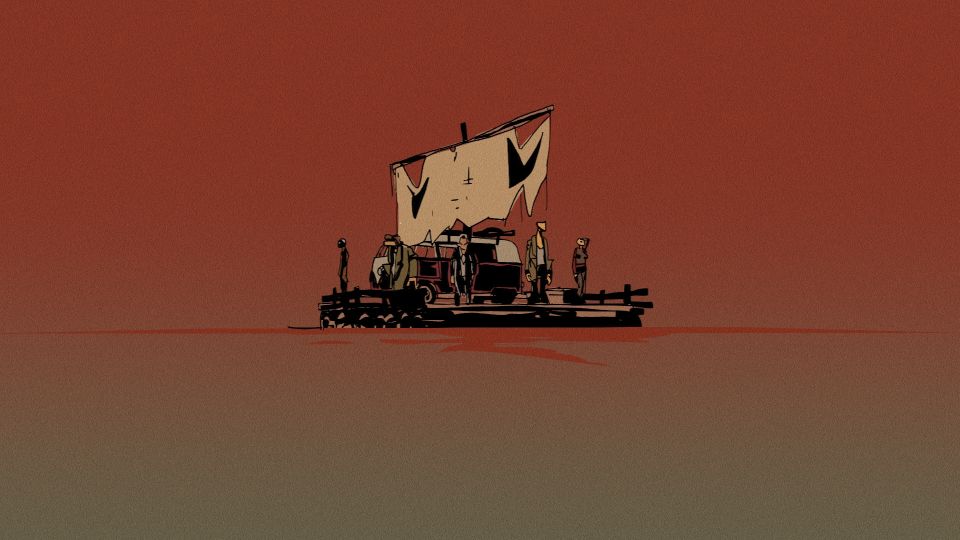 OBERHAUSEN ON TOUR: INTERNATIONALER WETTBEWERB
Oberhausen on Tour – Internationaler Wettbewerb
DE 2023. Div. ca. 90 Min. DCP
Filmreihe: Oberhausen on Tour
Präsentiert werden sechs Arbeiten, die dem Internationalen Wettbewerb und dem Internationalen Online-Wettbewerb des Festivals 2022 entstammen. Der Spielfilm BOA NOITE zeigt die besondere Beziehung zwischen einer Großmutter und ihrem Enkel und wie sie sich gegenseitig vor ihren Ängsten schützen. Matti Harju verzichtet in KOLME PÄIVÄÄ SADETTA auf eine übergreifende Erzählung, wenn sein Protagonist, der ein Drogenkurier sein könnte, ziellos durch den Wald läuft. In der Computeranimation PUNCTURED SKY begibt sich ein unsichtbarer Erzähler auf eine Entdeckungsreise, um herauszufinden, warum sein geliebtes Videospiel aus Kindheitstagen auf mysteriöse Weise verschwand. Der dokumentarische Bericht L'ESCALE zeigt nur einen Blick aus dem Flugzeugfenster und macht deutlich, wie eng das Privileg persönlicher Freiheit mit der im Pass dokumentierten Herkunft der Reisenden verknüpft ist. Elodie Pong dagegen dokumentiert die Straße von Gibraltar, die zur bevorzugten Route für Migranten geworden ist, als Schauplatz von Hoffnung und Tod. In Marko Meštrovics Animation THE RAFT schließlich wird die ganze Welt überflutet, doch die Band 'Raft' spielt ihre Musik auf einem Floß einfach weiter. Als Auswahlprogramm steht hier das große Kino der kleinen Form zur Entdeckung bereit.
Unfortunately it is not possible to buy tickets for this event online.
The staff at the counter of the DFF is available for questions regarding tickets for this event.
Tuesday 24.10.2023
20:30 Uhr
OBERHAUSEN ON TOUR: DEUTSCHER WETTBEWERB
Oberhausen on Tour – Deutscher Wettbewerb
DE 2023. Div. ca. 90 Min. DCP
Filmreihe: Oberhausen on Tour
Fünf Arbeiten aus dem Deutschen Wettbewerb 2022, die sich vor allem mit den Themen Arbeit, Migration und Kommunikation auseinandersetzen. Im pointierten MUSS JA NICHT SEIN, DASS ES HEUTE IST zeigt Sophia Groening die Lebensrealität von jungen Erwachsenen in Köln-Finkenberg ganz ungeschönt. Susann Maria Hempel fragt sich in DIE HÜTER DES URATS EINE KURZE GESCHICHTE DES ABFALLS, was es für die Rekonstruktion von Menschheitsgeschichte bedeutet, wenn dank konsequenter Kreislaufwirtschaft künftig keine Abfälle mehr entstehen. In dem dokumentarischen LAS FLORES folgen Miguel Goya und Tina Wilke einer Gruppe junger Migranten in Berlin. Zwischen Selfies und flüchtigen Sprachnachrichten wird das Schicksal einer Jugend deutlich, die auf der Suche nach einer besseren Zukunft nach Europa ausgewandert ist. Michel Wagenschütz porträtiert in Gute Arbeit, gute Nacht eine Künstlerin, die in Telefongesprächen mit der Arbeitsagentur versucht, ihre Betriebsausgaben zu rechtfertigen. Bei Simon(e) Jaikiriuma Paetau und Natalia Escobar schließlich verschmelzen Dokumentarfilm und Fiktion zu einer transkulturellen Erzählung. ARIBADA trifft mitten in der kolumbianischen Kaffeeregion auf Las Traviesas, eine Gruppe indigener Transfrauen der Embera-Stämme. Das Magische, das Traumhafte und das Performative koexistieren in dieser einzigartigen Welt. ARIBADA wurde mit dem 3satNachwuchspreis ausgezeichnet.