The Sound of Disney
Film Series Accompanying the Exhibition
For our special exhibition The Sound of Disney 1928-1967, we offer an extensive and varied accompanying programme of film screenings, lectures, panel discussions, readings, concerts, workshops and many other activities. Each month has a special thematic focus. In August the focus is on dubbing.
This month's guest speakers include film scholar Prof. Dr. Joseph Garncarz, who will compare the three German dubbed versions of SNOW WHITE AND THE SEVEN DWARFS, dubbing actress Alexandra Wilcke, whose sonorous voice is for many inseparably linked with the popular film characters Snow White, Nala or Pocahontas, as well as film scholar Megumi Hayakawa who will present the colourfulness of the SILLY SYMPHONIES as an early example for the combination of synchronized sound and animation. Film collector Thomas Pfeiffer opens his treasure chest and will lead the audience through the Disney Studios history with trailers. A panel discussion with film students Isadora Paiva, Moritz Hingott and Gabriel Häusler on "Marke mit der Maus" (the brand with the mouse) rounds off our accompanying programme in August.
In our Cinema for Children series, we show two timeless Disney classics: SCHNEEWITTCHEN UND DIE SIEBEN ZWERGE and DUMBO. The moderated short film programme KURZ FÜR GROß UND KLEIN invites young and old to discover the alluring interplay of colourfulness and sound in a compilation of short Disney films.
The information in the timetable below can only be displayed in German.
Saturday 08.08.2020
18:00 Uhr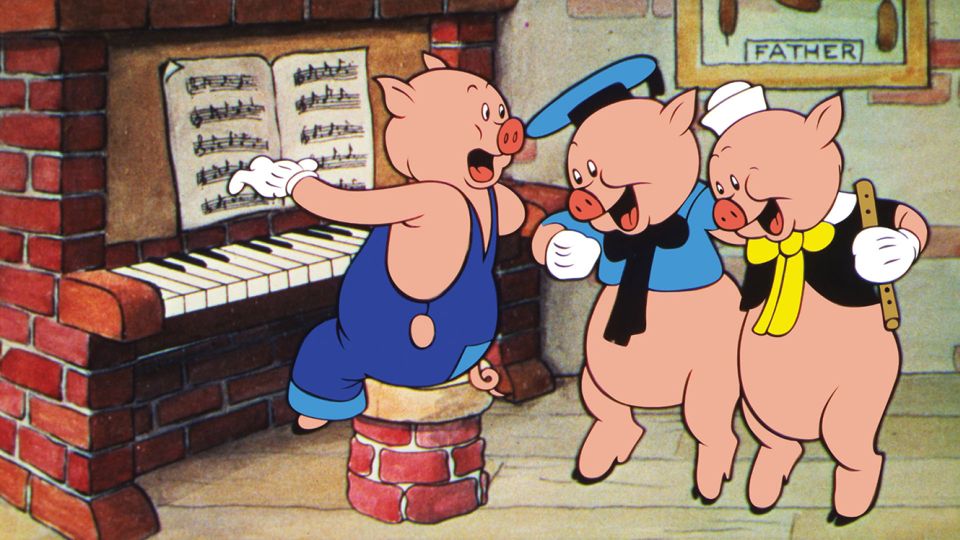 DISNEY TECHNICOLOR-KURZFILMPROGRAMM
Vortrag und Kurzfilme
Div. 35mm/Digital. 105 Min
Colors from the Rainbow: Disneys Farbtechnik und Farbästhetik in den "SILLY SYMPHONIES" (Vortrag)
Vortrag: Megumi Hayakawa (Filmwissenschaftlerin, Zürich)
Filmbeginn ca. 19 Uhr
Mitte der 1920er Jahre, bereits vor seinem ersten Tonfilm STEAMBOAT WILLIE (1928), hatte Walt Disney die Idee, Animationsfilme in Farbe zu produzieren – wenn schon, dann gleich in der "ganzen Farbpalette". Realisieren konnte er diesen Plan 1932 mit dem Dreifarben-Druckverfahren von Technicolor. Der große Erfolg der "SILLY SYMPHONIES" bei Kritik und Publikum in den 1930ern verdankte sich dieser bahnbrechenden Technik, aber auch Disneys Bemühungen um den optimalen Einsatz der Farbe in den Filmen.
Die Kurzfilme sind in selten zu sehenden authentischen 35mm-Technicolor-Druckkopien aus dem Filmarchiv des DFF sowie als restaurierte Digitalisate zu sehen. Gezeigt werden einige der populärsten Titel aus der Reihe der "SILLY SYMPHONIES".
Unfortunately it is not possible to buy tickets for this event online.
The staff at the counter of the DFF is available for questions regarding tickets for this event.
Saturday 22.08.2020
17:00 Uhr
POCAHONTAS
Gespäch und Film
USA 1995. R: Mike Gabriel, Eric Goldberg. 81 Min. Bluray. DF
Wie wird man Schneewittchen, Nala und Pocahontas? (Gespräch)
Zu Gast: Alexandra Wilcke (Schauspielerin und Sängerin, Berlin)
Filmbeginn ca. 18:30 Uhr
Alexandra Wilcke zählt zu den gefragtesten Schauspielerinnen und Sängerinnen. Als Synchronstimme ist sie omnipräsent. Vielen dürfte ihr farbenreicher Klang besonders durch ihre Disneyrollen als Titelfiguren in SCHNEEWITTCHEN UND DIE SIEBEN ZWERGE und in POCAHONTAS sowie als Nala in DER KÖNIG DER LÖWEN vertraut sein. Im Gespräch mit dem Publikum erzählt Alexandra Wilcke von ihrer Arbeit als Synchronschauspielerin und Sängerin und verrät, welche Geschichten sie mit den Disney-Rollen verbindet.
POCAHONTAS
Disneys Zeichentrickfilm überführt die historische Geschichte der indianischen Legende Pocahontas ins Disney-Universum und erzählt von der ambivalenten Konfrontation wildernder Räuber aus der sogenannten zivilisierten Welt, die auf vermeintlich unentdeckte Indigene treffen. Die eingängige, preisgekrönte Filmmusik von Alan Menken und Stephen Schwartz wurde mit zwei Oscars© in den Kategorien "Best Musical Score" und "Best Original Song" (für "Colors of the Wind") ausgezeichnet.
Unfortunately it is not possible to buy tickets for this event online.
The staff at the counter of the DFF is available for questions regarding tickets for this event.
Friday 28.08.2020
20:30 Uhr
DISNEYS WELT IM TRAILER
Filmvorschauprogramm
Div. 120 Min. 35mm
Demnächst in Entenhausen – Disneys Welt im Trailer
Moderation: Thomas Pfeiffer (Filmarchivar und -sammler, Hamburg)
So besonders Walt Disneys Filme auch sein mögen, in einem unterscheiden sie sich nicht von anderen Filmen – im Kino wird mit Trailern für sie geworben. Diese Trailer erzählen ihre eigenen kleinen Geschichten. Es wird sehr bunt mit vielen originalen Technicolor-Druckkopien! Und da jede neue Kinogeneration ihre eigene Wiederveröffentlichung bekommt, sehen auch deren Trailer unterschiedlich aus.
Unfortunately it is not possible to buy tickets for this event online.
The staff at the counter of the DFF is available for questions regarding tickets for this event.
Saturday 24.10.2020
17:00 Uhr
THE DISNEY SONG ENCYCLOPEDIA
Live-Konzert mit Lesung
Zu Gast: Vincent Knüppe (als Pianist, Seligenstadt), Patrick Platz (als Sprecher), Pramila Chenchanna (als Sängerin, Frankfurt), Nils Daniel Peiler (als Sänger und Moderator, Frankfurt)
Hinweis: Veranstaltung auf Deutsch und Englisch!
Aktueller Hinweis: Aufgrund der hohen Nachfrage und der coronabedingt stark minimierten Auslastung des Kinosaals wird die Veranstaltung live auf die Leinwand im Museumsfoyer übertragen. Hierfür werden Sitzplätze eingerichtet. Tickets für die Videoübertragung kosten 5 Euro und sind ab 16 Uhr nur direkt an der Abendkasse erhältlich (kein Vorverkauf).
Das Buch The Disney Song Encyclopedia von Thomas S. Hischak und Mark A. Robinson versammelt über 1.100 Disney Film-Songs. Im Kino des DFF erklingen an diesem Abend einige der schönsten Titelmelodien, Balladen und Duette aus Disney Filmen.
Unfortunately it is not possible to buy tickets for this event online.
The staff at the counter of the DFF is available for questions regarding tickets for this event.
Wednesday 18.11.2020
20:00 Uhr
PETER PAN
Film und Gespräch
USA 1953. R: Clyde Geronimi, Wilfred Jackson, Hamilton Luske. 77 Min. DF
Ich, Peter Pan
Zu Gast: Ernst Jacobi (Schauspieler, München)
Gesprächsbeginn ca. 21:15 Uhr
Der 1933 geborene Schauspieler Ernst Jacobi zählt zu den bedeutendsten Mimen seiner Generation. 1953 sprach er mit 20 Jahren die Hauptrolle in Disneys PETER PAN – den Jungen, der nie erwachsen werden möchte. Auch in zahlreichen weiteren Kultfilmen wie 101 DALMATINER, ZURÜCK IN DIE ZUKUNFT oder DAS WEIßE BAND ist Ernst Jacobis helle, raue und feine Stimme zu hören. Im Gespräch mit dem Publikum berichtet die Theater-, Film-, Fernseh- und Synchronschauspiellegende von ihren Erfahrungen und insbesondere den Erinnerungen an die Rollen für Disney.
PETER PAN
Wie wäre es, nie erwachsen zu werden? Peter Pan lebt diesen Kindheitstraum und entführt auch seine jungen Freunde, die an ihn glauben, nach Nimmerland: Dort begegnen die jungen Abenteurer dem bösen Captain Hook, sing- und tanzfreudigen Indianern und einem Krokodil, das eine Uhr verschluckt hat.
Sunday 13.12.2020
18:00 Uhr
CINDERELLA
Vortrag und Film
Aschenputtel. USA 1950. R: Clyde Geronimi, Wilfred Jackson, Hamilton Luske. 74 Min. DF
Von Traumschlössern und Prinzessinnen – Walt Disney und die Kunst (Vortrag)
Vortrag: Dr. Alexandra Vinzenz (Kunsthistorikerin, Heidelberg)
Filmbeginn ca. 19 Uhr
Es ist die Welt der frühen Animationsfilme von Walt Disney, die Schloss Neuschwanstein ebenso zu neuem Leben erweckt wie die österreichische Kaiserzeit oder ein verklärtes romantisches Mittelalter-Bild. Aber auch Maler der Moderne und Märchenbuchillustrationen stehen Pate für die Bildschöpfungen. Der Vortrag nimmt die Filme CINDERELLA (1950) und DORNRÖSCHEN (1959) hinsichtlich ihrer Bezüge zur Bildenden Kunst und Architektur genauer unter die Lupe.
CINDERELLA
Walt Disney widmete sich ausgiebig den europäischen Märchen, unter anderem in den Filmen SNOW WHITE AND THE SEVEN DWARFS und in SLEEPING BEAUTY. Auch in CINDERELLA wird eine bekannte Märchenfigur für das Disney-Universum adaptiert. Ganz märchenhaft spielen dabei Zauberei, Wünsche und Träume eine große Rolle – und ein Märchenprinz darf natürlich zum Happy End nicht fehlen...
Saturday 02.01.2021
17:30 Uhr
THE LION KING
Vortrag und Film
Der König der Löwen. USA 1994. R: Roger Allers, Rob Minkoff. 88 Min. OmU
Vom Film auf die Bühne: Disney Musicals (Vortrag)
Vortrag: Dr. Britta Heiligenthal (Künstlerische Leiterin Musicaltheater, Hamburg)
Filmbeginn ca. 18:30 Uhr
Wie überträgt man die Magie eines Disney Animationsfilms auf die Musicalbühne? Und welche Rolle spielt dabei die musikalische Struktur, die dem Film zugrunde liegt? Dr. Britta Heiligenthal, Filmwissenschaftlerin und Künstlerische Leiterin des Theaters Neue Flora Hamburg, erläutert spezielle Merkmale dieses Genres, veranschaulicht die praktischen Herausforderungen von Bühnenadaptionen wie ALADDIN und TARZAN und analysiert das Erfolgsgeheimnis von THE LION KING.
THE LION KING
"Hakuna Matata", "Can You Feel the Love Tonight", "The Circle of Life" – die preisgekrönte Filmmusik von Elton John, Tim Rice und dem Frankfurter Komponistenstar Hans Zimmer für THE LION KING wartet mit zahlreichen eingängigen Nummern auf, die zu modernen Klassikern geworden sind.
Sunday 03.01.2021
14:00 Uhr
BAMBI
Am 03.01. mit Podiumsdiskussion
USA 1942. R: David Hand u.a. 65 Min. DF
Mein erster Disney Moment – Ein Mehrgenerationengespräch (Podiumsdiskussion am 03.01.)
Zu Gast: Bruno Aab (Schüler), Franka Kurke (Schülerin), Aida Ben-Achour (Kommunikationswirtin), Andreas Platthaus (Journalist) (alle Frankfurt)
Filmbeginn ca. 15 Uhr
Disney Filme prägen mitunter unser ganzes Leben, da wir ihnen früh in der Kindheit das erste Mal begegnen. Die filmbegeisterten Kinder und Jugendlichen Bruno Aab und Franka Kurke, die Outreach-Managerin des DFF Aida Ben-Achour sowie der stellvertretende FAZ-Feuilletonchef und Donaldist Andreas Platthaus diskutieren miteinander und mit dem Publikum über ihre unterschiedlichen Erfahrungen im Erstkontakt mit Disney und wie dieser ihr Leben verändert hat. Das Publikum ist eingeladen, Fragen zu stellen.
BAMBI
Die Zeichner für BAMBI arbeiteten im Studio mit echten Tieren als Modellen. Verblüffend naturalistisch muten folglich das Aussehen und die Bewegungen der animierten Rehe, Hirsche, Stinktiere und Kaninchen an. BAMBI ist die Verfilmung des 1923 erschienenen gleichnamigen Buches des österreichischen Schriftstellers und Jägers Felix Salten.
Sunday 10.01.2021
12:00 Uhr
DAS SCHLOSS AM ENDE DER STRAßE
Live-Stummfilmkonzert mit Kurzfilmen Das Schloss am Ende der Straße: Walt Disneys Laugh-o-Grams (1921-1922)
Zu Gast: Daniel Kothenschulte (Film- und Kunstkritiker, Köln)
Es war einmal: Walt Disney. Gern erzählte der spätere Hollywoodproduzent von den ersten Märchenfilmen, die er schon mit 21 Jahren in Kansas City drehte. Zu sehen aber sind sie selten, einige wurden erst vor wenigen Jahren entdeckt. Dabei sind die ersten Abenteuer von Cinderella, dem Gestiefelten Kater oder den Bremer Stadtmusikanten ausgesprochen zeitgemäße Adaptionen, die auch nach einem Jahrhundert ihre Frische bewahrt haben: Das Königsschloss schmückt wie selbstverständlich eine amerikanische Kleinstadt und lässt bereits Disneyland erahnen.